Rainbow Brite, eat your heart out! This Holographic Rainbow Leopard Konadicure is meant to steal the show. All Eyez on Me, 2Pac! (Yeah, that's right. I just put Rainbow Brite and 2Pac in the same paragraph.)
I've always loved rainbows, but lately I'm obsessed with them. (It's Clarins 230's fault!)
From the second I saw SayAnythingBr00ke's Lisa Frank inspired nail tutorial on YouTube, I knew I had to try it.
Check out more swatches, and see what I came up with following her directions.
While I'll link to her video in my post, I'm also including my own tutorial with photos and step-by-step instructions in case it helps someone.
If you haven't already tried this, now's as good a time as any!
Holographic Rainbow Leopard Konadicure Swatches
All swatches have:
Note: Most of these photos were taken prior to proper clean-up, so there's messy polish on the cuticles. More on that later in my tutorial (if you scroll further down).
Konad Image Plate m57 Picture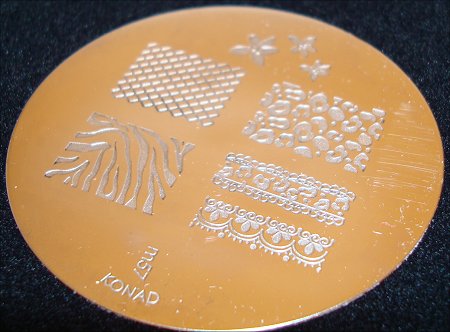 Key Notes
Konad Tutorial: Check out my Konad Tutorial for step-by-step instructions and pictures. You'll be Konading in no time!
What I Used to Create This Look:
Nail Polishes from Tip to Cuticle:
Konad m57 Image Plate: $6.99 USD
Konad Special Nail Polish (Black): 11 mL – $6.99 USD
Konad Stamper (came in a set with a metal scraper): $4.99 USD for set
Konad Plastic Scraper: $2.50 USD
Where to Buy Konad Supplies: Konad Stamping Nail Art, Trans Design, Head2Toe, WowSoCool, OC Nail Art & select mall kiosks
Holographic Rainbow Leopard Konad Tutorial
Step 1: Choose Your Colors
Obviously you can choose any colors you want. I went with bright, holographic colors that reminded me of summer and that would catch the light even with a black leopard print on top.
Check your polish stash, and see which colors you think go together well. Put the bottles in a line, and decide which order you'd like the colored stripes to be.
Tip: Go for polishes that are opaque in a single coat so you won't have to go over the same stripe more than once. Holographic polishes are usually excellent for this.
Ideas: How about trying all creme polishes, a gradient manicure with all greens that go from light to dark, a monochromatic manicure with all blues that have different finishes (e.g. holographic, creme, glitter, etc.), or an all-metallic manicure?
Step 2: Pick Your Konad/Fauxnad Image Plate Design & Stamping Polish
Have everything you need ready and accessible for Konading. And crack open the stamping polish bottle, too.
Step 3: Prep Your Nails
Apply a base coat, buff your nails, push back the cuticles, or do whatever you normally do in preparation for a manicure.
Step 4: Paint Your Stripes
Unscrew all the bottles so you won't be struggling to get them open later on when your nails are wet.
Working on a diagonal, start painting from the tip, and work your way up to the cuticle. Remember, the stripes don't have to be perfectly even. Just do your best! I painted mine freehand, and as you can see, they're not all even. When the leopard print is on top, it camouflages any mistakes anyway.
As you can see, this step is very messy. Expect to get polish on your cuticles like crazy. And yes, you're bound to have overlapping of stripes.
What I did was start painting all my tips (on both hands) with the same color (China Glaze DV8 – the blue). By the time I was ready to paint the purple stripe, the blue was already dry, so I didn't have any issues with the colors bleeding into one another. Keep going until you've filled up your nails with stripes.
And remember to wrap your tips – it'll  make your manicure last much longer! (Wrapping your tips just means to paint the free edge of your nail with polish, too.)
Originally I was just going to do one stripe of each color, but I made my lines too thin and so I had to use the blue a second time up at the cuticle to fill up the space. Turns out, I really like the way this looks.
Also, initially I had planned to paint each nail with a different color order, but I totally forgot and painted all the tips blue without thinking, so it was too late. If you try this, consider painting each nail in a different order – it'll totally add to the randomness of the design!
Step 5: Wait for Polish to Dry
It's imperative that your polish is completely dry before you start Konading it up. If it's still wet, you'll completely ruin all the hard work you've done. Trust me – I've screwed up a Konadicure before because of my impatience.
So…if you're impatient like me, here's a tip – use a fast-dry top coat at this stage. (I used my trusty Seche Vite Dry Fast Top Coat.) Some people have problems with more than one layer of Seche Vite because it causes their polish to peel off in sheets, but I've never had that happen to me, so that's why I sometimes use it for more than just a finishing top coat.
Step 6: Use Your Konad Stamp
Stamp on your chosen design. (I chose the leopard print from Konad Image Plate m57.)
Check out my detailed step-by-step Konad tutorial complete with photos and instructions if you're new to nail stamping.
Step 7: Clean Up Using Nail-Polish Remover & Cotton Swabs
Carefully clean the polish that got on your skin. But don't worry about getting rid of all of it (unless it really bugs you).
As you can see from my swatches, I still had quite a bit of polish. I painted my nails at night (as usual), and in the morning, I took my shower and washed my hands a few times. A lot of the paint on my cuticles came off that way anyway. And the day after, even more came off the skin. (This is the Lazy Method…and it works!)
Step 8: Wait for Design to Dry & Then Slick on a Top Coat
Time will vary depending on which polish you've used. With the Konad Special Nail Polish (Black) I used, I waited a good 10-15 minutes before I put on the final coat of Seche Vite Dry Fast Top Coat to seal everything.
Step 9: Stare at Your Nails for a Long Time
But remember to do stuff…like eat and go to work/school. Haha!
Hope you enjoyed the swatches and tutorial. Phew…this was a long post, wasn't it?
Oh, and here's the link to SayAnythingBr00ke's YouTube tutorial on this nail look if you're thirsting for more. Hehe, tell her that Mary from Swatch And Learn sent ya!
(Update: Check out what Swatch And Learn reader, Kee, came up with. See her rainbow leopard manicure swatches! Pretty!)
Are you going to try your hand at this rainbow leopard Konadicure? What's your favorite nail art you've ever done yourself? Think this is way too much work?