Never had my nails professionally done because I'm all about DIY projects. There's something really rewarding and relaxing about giving yourself a manicure.
Konad revolutionized the nail industry with their stamping kits.
If you're new to the wonderful world of Konad like I am (or even if you just want to pick up some tips and tricks), keep reading for my step-by-step Konad tutorial that includes written instructions as well as visual aids to make it simple to follow along.
I'll also provide you with an in-depth Konad Nail Stamping Kit review on all the products I've mentioned including the Konad Image Plate, Special Polish, Stamper, Scraper, and Image Plate Holder.
(To go straight to my Konad Nail Stamping Kit review and skip the tutorial, please scroll down to the bottom of the page.)
*~* Konad Nail Art Tutorial *~*

Things You'll Need
Nail polish remover
Base coat (optional)
Colored nail polish
Konad Special Nail Polish (or any regular polish you have with a thick, opaque formula)
Top coat
Konad Stamper
Konad Image Plate
Cotton swabs
Cotton ball (soaked with nail polish remover)
Tweezers (to hold cotton ball)
Konad Scraper
Konad Image Plate Holder (optional)
Paper (to protect working surface)
Konad Tutorial Instructions
Step 1:
Make sure you have everything you need within arm's reach. Cover the work surface with a piece of paper or something that you don't mind getting dirty. Partially unscrew the caps of your nail-polish bottles to avoid later having trouble with hard-to-open bottles when your nails are painted.
Soak a cotton ball with nail-polish remover and put it on the end of a tweezer. (This will be used later for several image-plate clean-ups during the manicure. And because the ball's on a tweezer, you'll avoid accidentally touching any remover and ruining your manicure.)
Step 2:
Place your Konad Image Plate in the Holder (if you have one).
Step 3:
Apply your base coat (optional). Then paint your nails with your chosen nail polish. (I used China Glaze Pool Party for this tutorial. It's a neon pink that dries matte and dries quickly. You can see swatches by clicking on the link to my previous post.)
After your last coat of polish, let it dry completely. This is crucial because stamping onto still-wet polish will destroy your manicure.
Step 4:
Apply some of the Konad Special Nail Polish to the design on the Konad Image Plate. You don't have to apply loads of it – just enough to cover the design. (Here, I've chosen the leopard print. Rawr!)
Step 5:
You'll see that I repositioned the image disk. Forgot to do that before. (Hey, I'm still learning myself!) You want to position the design you're using so you can scrape the polish off and away from the plate without putting the discarded polish onto another design.
Hold the Konad Scraper and carefully sweep it across the design. You don't have to press too hard…just hard enough to remove the excess polish. Applying too much pressure will take off too much polish from the engraved design. Too little pressure won't leave a clean image.
Wipe your scraper onto your piece of paper to remove excess polish after each time you scrape.
After doing this, you really need to work fast or the polish will dry up and not transfer on your nail properly.
Step 6:
Now for the fun part! While holding the Konad Stamper, firmly press down on the design.
Step 7:
Check to make sure you picked up the entire design and that there aren't any faded areas. Below is a good example of what you want to see. All the areas are filled with polish.
If you didn't pick up the entire design, simply stamp the design on the paper you've laid down to remove it. If it doesn't all come off, you can use your cotton ball soaked in remover to clean it. Then stamp a few times on your paper to get rid of any polish residue.
Step 8:
If the image you've picked up on your stamper looks good, test it out on your piece of paper. Practice a few times so you get comfortable with how much pressure you need to apply to achieve the best image.
Then, when you're ready to do it on your actual nail, go for it! Be sure to only use fresh stamping (i.e. new polish, new scraping, new image-picking-up) for ideal results.
Step 9:
To transfer the design from your stamp to your nail, you'll want to apply even pressure to your nail as you roll the Konad Stamper from one side of your nail to the next. Do it in 1 smooth motion.
You'll notice that in the below image, the tip of my nail is bare. To avoid this mistake, be extra careful when stamping full-nail designs and look at the stamp to make sure it'll fit over your entire nail before stamping.
Step 10:
Repeat Step 9 with the rest of your nails (if you want the same design on all of them, of course).
It's a good idea to use your cotton ball to clean the plate after each time you've used it to get rid of any dried polish still stuck in the engraved design. But once you get faster at doing Konad designs, you can probably just clean the plate every few stamps.
Don't worry about stamping onto your skin. And never mind those bits that may stick over the edge of your nail for now.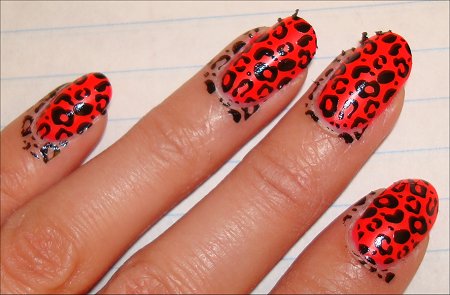 Step 11:
If you have bits hanging over the edge of your nails like I did, you can carefully remove them with the pads of your finger.
Wait for the Konad Special Polish to dry before slicking on your top coat. If you don't wait long enough, you'll risk causing streaks/smears in your design. I suggest waiting a good 10-15 minutes before applying your top coat to prevent messing up your manicure.
Also, I asked Scrangie about which top coat to use that won't cause streaking, and she said that the Konad brand top coat doesn't streak because it's probably formulated differently. Good to know! I've already placed an order for that top coat. Will report the results in a future post.
I've found that if you wait 10-15  minutes, using Seche Vite Dry Fast Top Coat works perfectly. So if you have that, you may not need to invest in the Konad top coat.
Then after waiting a little while for your top coat to dry, get your cotton swabs, dip them in nail-polish remover, and remove any polish that got onto your skin.
Maybe I'm a messy 'Konader', but when I'm done, my workspace looks like this! That's why I recommend putting down some paper or other material that you don't mind ruining.
Tips & Tricks

You can use regular nail polish instead of the Konad Special Nail Polish. It should have a thicker consistency and be very opaque to work well. Be sure to test-stamp it first.
Don't buy the metal Konad Scraper like I did. It can scratch your plates & ruin them over time. Instead, get the plastic version they sell or even just use an old credit card.
Use generic cotton swabs instead of Q-Tips because the latter are fluffier, and the fluff may wind up on your nails.
There are some 'fauxnad' image plates you can get that cost less than official Konad ones. Be careful though because some are crappy quality. The Bundle Monster image plates seem to be the most popular.
If you can, invest in the Konad brand top coat as it won't smear your design. (If you want to use your regular top coat, just make sure you wait 10-15 minutes after stamping and apply a thick layer of top coat with minimal pressure to avoid streaking.)
Did you find my Konad tutorial helpful? Please let me know, and also tell me if you have a cool tip or trick!
*~* Konad Nail Polish Stamping Kit Review *~*

Claims: TRUSTED
√ Helps you create nail-art designs easily
Key Notes
What I Paid:
Konad m57 Image Plate Picture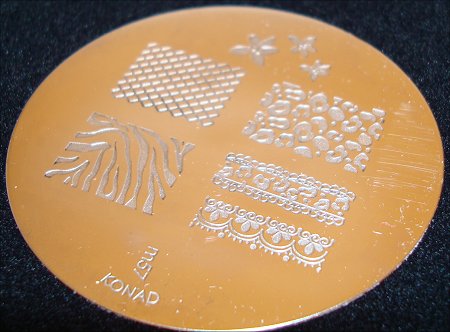 Konad m57 Image Plate Review

The Konad m57 image disk is one of the most popular ones I've seen used on the internet, and I can see why! You get 4 full-nail designs (zebra, fishnet, leopard, and lace) including 3 small flowers.
The back of the image plate has thick paper with "konadnail.com" tiled across. The Konad image disk comes in a clear plastic package with pink detailing on the top.
Black Konad Special Polish Pictures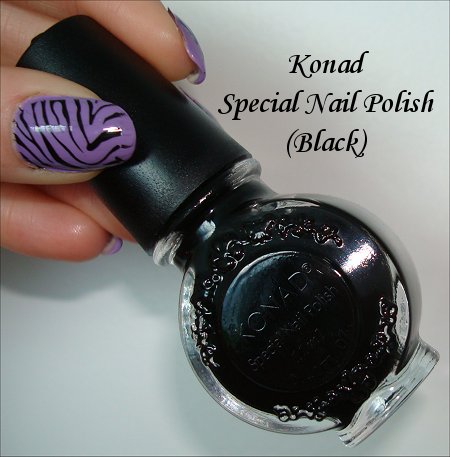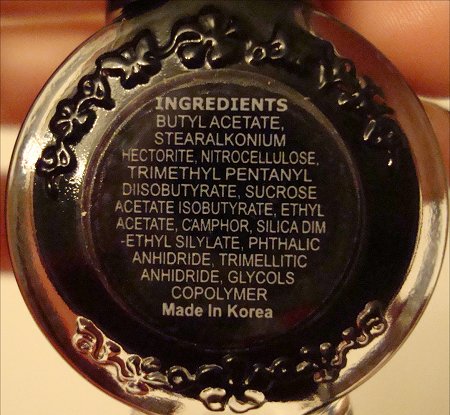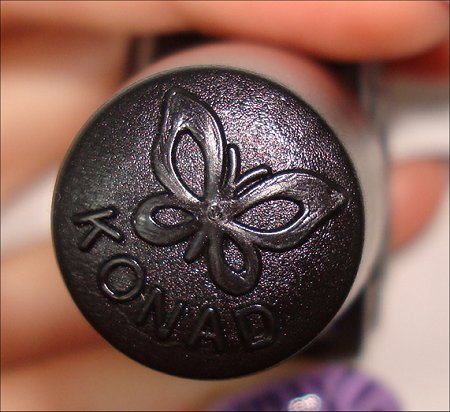 Black Konad Special Nail Polish Review

Konad Special Polish is very different than your typical nail polish. It's very thick. After you've stamped the design on your nail, the parts that end up dangling off your nail or that adhere to your skin are very peculiar. They're stringy, and kinda look like very thin elastic bands.
As you can see from my Konadicure swatches near the top of this post, you'll see that parts of my design are smeared. While this is a fast-drying polish when using it for stamped images (and not for coating your entire nail bed), looks like it still needs a while to dry before you apply your top coat. Keep this in mind to avoid ruining your hard work!
Another interesting thing was that when I removed my polish completely, the first thing that wiped away quickly was the black Konad Special Nail Polish. It defnitely is a different animal than your regular polish.
Konad Stamper Picture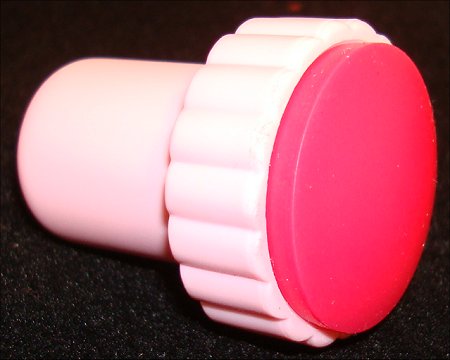 Konad Stamper Review
I really wanted to get the dual-ended stamper instead of this one, but since it was out of stock, I winded up getting this smaller, stubbier version. It works well, and it's comfortable to grip, but if you don't want full-nail designs, I suggest looking for the dual-ended stamper for greater precision. For the zebra-print pattern, it works very well, and I was pleased with the results.
The dark-pink stamp part that touches your nails has a rubbery texture that helps prevent slipping on your nail.
Konad Scraper Picture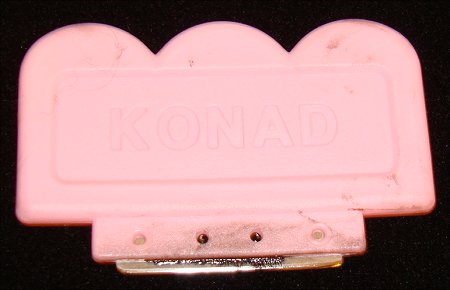 Konad Scraper Review
Since I didn't know any better, I got the metal Konad Scraper. It works well to remove the excess polish on the Konad Image Plate, but as other people on the Web have mentioned, it does scratch the plate. (If you can, opt for the plastic version instead. I've read that some people even suggest using an old credit card because it does the job.)
Konad Image Plate Holder Picture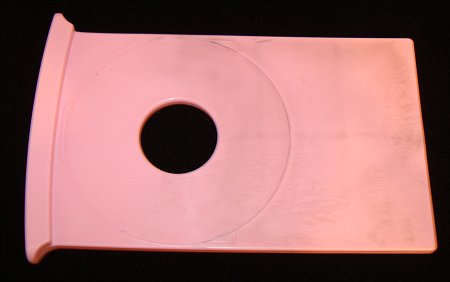 Konad Image Plate Holder Review

This was an extra accessory that you don't really need. I bought it because I wanted to make my first forage into nail art as easy as possible. But to be honest, the Konad Image Plate Holder doesn't really make a huge difference. I could just put the plate on my table and hold it to achieve the same results. But since I bought it, I'll continue to use it.
Pros
Quick & easy to use
Creates unique & intricate nail art

Cons

Cuticle clean-up required for full-nail images
If you make a mistake during the stamping process, you have to start all over again
Final Verdict: 10/10
Creating a Konadicure was way easier and quicker than I thought! I'm really excited to try more Konad image disks, and to share my photos and experiences with you again in the future.
What are your favorite polishes to use instead of the Konad Special Polishes? Do you know of any good etailers that I didn't already mention where you can purchase Konad supplies for less? Let me know!