Dear Pink Polish,
I know that I haven't spent as much time with you as I would've liked. It's not you. It's me. I can't help but be more attracted to greens, blues, and purples. And yes, playing the field is fun.
But it's February, and Valentine's Day will be here before we know it. Maybe Cupid finally got me with his arrows, but I saw you lying among the other polishes and I felt sorry to have neglected you all these years.
So for one week, let's have a fun night out on the polish town. I'll show you around, so put on your cutest Konadicure!
XOXO,
Mary
Konadicure: Pink Valentine's Day Swatches
All swatches have:
OPI Got a Date To-Knight! Review & Pictures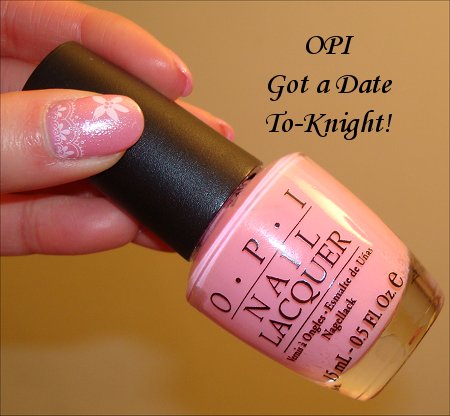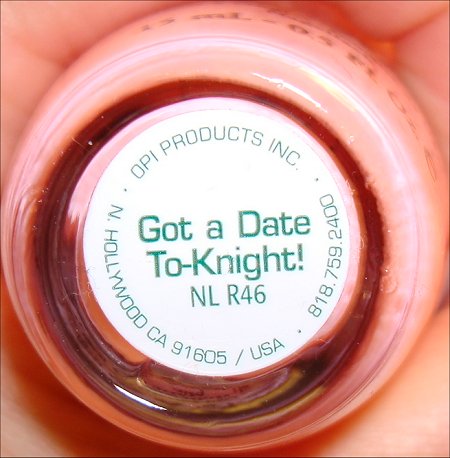 OPI Got a Date To-Knight! is a bubble-gum pink that is very pretty, but I didn't love it alone on my skin tone. You'll need to wear a minimum of 2 coats if you don't want visible nail lines.
I used 3 coats because I was hoping the shade would become slightly darker and therefore suit my skin tone better. It didn't, which is why I later decided to layer OPI Princesses Rule! over it.
The formula of OPI Got a Date To-Knight! is perfect – smooth, thin (although slightly watery), and has a really cool squishy-looking finish. I wouldn't say this is a jelly finish, but it's almost one.
Dry time was average for OPIs, and it dried fairly shiny on its own.
OPI Princesses Rule! Review & Pictures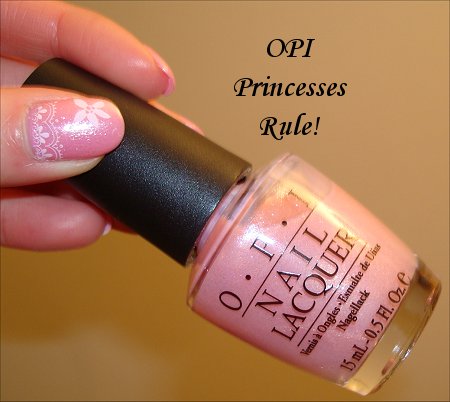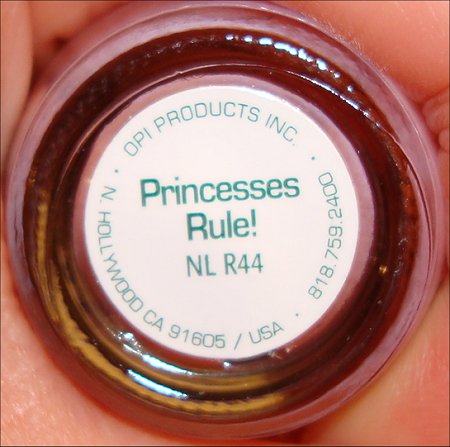 OPI Princesses Rule! has the same base color as OPI Got a Date To-Knight!, but it has gorgeous light-pink glass-fleck micro glitter. It adds dimension to your nails, and I love how it catches the light and brings your manicure to life.
I got tons of compliments from complete strangers on this manicure. They all loved the pink glass-fleck polish especially. Yeah, it's pretty, but I'm totally not a pink-polish person – never found a pink polish that I loved (except for neon pinks). And so the search continues!
Oh, and this polish doesn't necessarily have to be used as a layering polish like what I've done here. I painted my mom's nails a few weeks ago with just this and with 2 thick coats, you get a great natural look.
Konad Image Plate m57 Review & Picture (Round-lace border & flowers)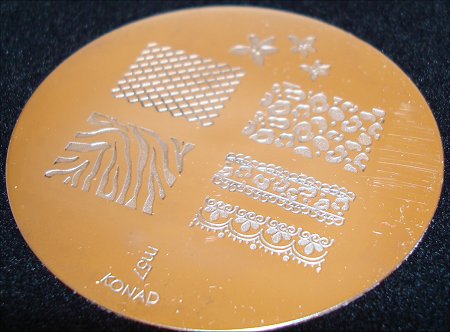 I used the rounded lace stripe at the bottom right and all the flowers from the Konad Image Plate m57 for today's nail art.
After painting my nails, I first stamped the lace pattern horizontally near my cuticle. Then I placed a flower on the outer side of each nail. I used the largest flower on my thumb, the medium flower on the next 3 fingers, and the smallest flower on my pinkie.
(The flower on my pinkie looks like the same size as the other 3 fingers because the first time I tried stamping, I forgot to use the smallest flower! My right hand, however, has the smallest flower on the pinkie, but it was a pain using my less-dominant hand to take photos. Hope you don't mind that you only see my left hand in the swatches.)
Konad Special Nail Polish (White) Review & Picture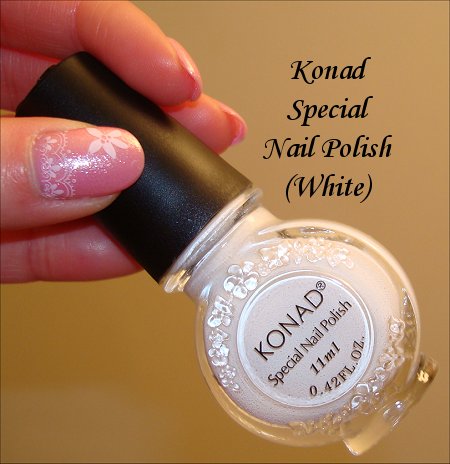 Compared to the black one, the Konad Special Nail Polish (White) provides a muted image on the nail. It's not as pigmented as the black, but I think it looks really cute when paired with a pastel polish like OPI Got a Date To-Knight! or OPI Princesses Rule!. And if you really want it to stand out, you can use it over a super-dark polish for a real pop!
Key Notes

What I Paid & Where to Buy:

OPI Got a Date To-Knight!: $4.49 USD
OPI Princesses Rule!: $4.49 USD
Konad m57 Image Plate: $6.99 USD
Konad Special Nail Polish (White): 11 mL – $6.99 USD
Konad Stamper & Konad Scraper (metal): $4.99 USD for both
Where to Buy Konad Supplies: Konad Stamping Nail Art, Trans Design, Head2Toe, WowSoCool, OC Nail Art & select mall kiosks
Have you already planned your Valentine's Day manicures? Will you be using Konad products or painting your nails a single color?
P.S. Check out my Konad Tutorial for step-by-step instructions and pictures to make Konadicures even easier to get the hang of!