When I was in elementary school, I enjoyed reading Archie comic books. Veronica Lodge was my favorite because she was a snotty, wealthy woman with an extensive wardrobe. And she was the drama queen! Of course, she often had to be taught the lesson of humility and generosity.
My least favorite character was probably Moose because dumb jocks never appealed to me. And I really didn't like Betty Cooper because she was such a goody-goody who often got upstaged.
Who's your favorite and least favorite Archie character?
So when I came across a comic nail tutorial on YouTube by cutepolish, I was excited to try my hand at it. Unfortunately, my Archie Comic Nails didn't turn out well. But I'm still sharing my failure with you because it could help you achieve better results after learning about my mistakes.
I've also included my comic nail tutorial and cutepolish's YouTube video at the end of this post in case you'd like to try it yourself!
Archie Comic Nail Swatches
*~* Archie Comic Nail Art Tutorial *~*

What You'll Need:
Archie Comic Book (You can also use comic strips from the newspaper.)
Rubbing Alcohol (You can get this at the drugstore in the first-aid section.)
Base Coat (I used OPI Natural Nail Base Coat.)
Top Coat (I used Seche Vite Dry Fast Top Coat.)
White Creme Nail Polish (I used OPI Alpine Snow.)
Bowl (for the rubbing alcohol)
Step 1: Flip through your Archie comic book or the newspaper and cut out images or words that you'd like to use. Be sure to cut out a larger area so it's easy to manipulate. You'll need 10 in total – 1 for each nail.
Try to use images or text that will cover up most of your nails. And keep in mind that whatever you choose will be inverted when you put it on your nails. This doesn't matter much for images, but for text, it will be backwards.
Step 2: Prepare your nails by applying a base coat.
Step 3: Paint your nails with your white creme polish. Use as many coats as you need to get it as smooth and bright as you can. Using a white polish is important because it allows the comic to show up better.
Wait until it's completely dry before going to the next step. (I was impatient, so I applied a coat of Seche Vite Dry Fast Top Coat at this point. This may or may not be why the ink from the comic didn't fully transfer onto my nails.)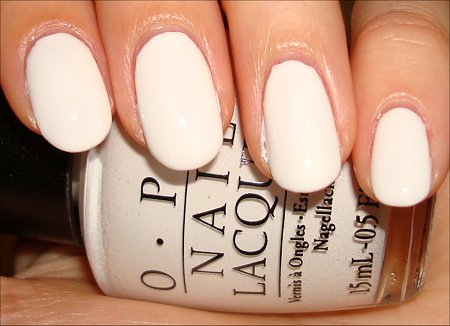 I used OPI Alpine Snow. To achieve full opacity, I applied 2 coats. The formula was streaky on the first coat. On the second coat, it was much better, but not perfect. That's okay, though, because while you need it to be bright, having a few streaks won't be as noticeable when the images are on your nails later.
Step 4: Pour some rubbing alcohol into your bowl. (You can also use another form of alcohol like a body mist. And apparently you can also use vodka, but honestly, why would you waste that?)
Step 5: Take the first image or text clipping you want to use, and dip it into the rubbing alcohol.
Step 6: With the image or text you want faced down, carefully position it on your nail. Press it down for a few seconds without sliding the paper around or you'll smudge the design like I did. Then slowly peel off the paper.

Step 7: Repeat Steps 5 to 6 for the rest of your nails. Wait a few minutes for your nails to dry.
Step 8: Seal in the design by using a top coat. I used a shiny top coat, but if you use a matte top coat, you'll maintain that cool newspaper finish.
Step 9: Admire your work! 🙂
If you want to check out the original YouTube tutorial video by cutepolish, check it out here! Hers turned out waaay before than mine, so I suggest you head on over. Let her know that Mary from Swatch And Learn sent ya!
Are you going to try your hand at Archie comic nail art? Are you a Veronica Lodge or Betty Cooper fan?