"Butterfly in the sky. I can go twice as high! Take a look. It's in a book. A reading rainbow!" (Couldn't help but make a nerdy Reading Rainbow reference. Who else remembers watching that show as a kid?)
Today's Konadicure using OPI Wing It! is one of the girliest manicures I've ever sported. And to be honest, I wasn't feelin' it. Tried something different than my usual greens and purples, so give me credit for that.
After painting my nails with OPI Wing It!, I wasn't sure which Konad image plate to use, so I took a cue from the polish name and went with butterflies! (Mariah Carey, eat your heart out!)
What do you think of the outcome? Good? Bad? Fugly? Don't worry about hurting my feelings…I have none! Haha, just kidding. I wasn't in love with this design, either.
OPI Wing It! Pictures
OPI Wing It! Swatches

All swatches have:
OPI Wing It! Review
This polish is a pretty magenta with an amazing flash of contrasting purplish-blue glass flecks. If I got giddy over pink polishes, this one would make me bounce off the walls. Unfortunately, I'm a green and purple lover.
Although the consistency was thin and liquidy, it didn't flood my cuticles when I swiped it on my nails. It was very easy to apply and the formula was self-leveling so any mistakes were quickly corrected by the polish.
My one gripe with the polish is that even after 2 coats, I still had VNL (Visible Nail Line). Yes, you could make it more opaque by layering a similar-pink creme polish underneath or adding more coats of OPI Wing It!, but since I was doing a Konadicure and there were already enough layers to deal with, I didn't bother.
Love, love, love how this polish catches the light! Sometimes it looks more pink and other times it looks more duochrome with the strong purple-blue flash.
Konad Image Plate m78 Review (Butterflies)

I used the large butterfly on my thumb and the smaller butterfly on the rest of my fingers. For those who have small hands like I do, you'll find that the small butterfly is slightly too big for your pinkie nail.
The butterflies were easy to pick up from the plate and they transferred well onto the nails. Every small detail showed up, even the thin antennas.
Konad Image Plate m57 Review (Leopard Lace)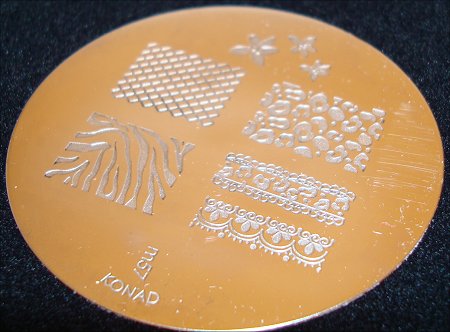 I really like the leopard-lace border because it's an interesting combination of wild and girly that you don't see often. The image was easy to pick up and stamp on. The lace pattern is long enough so if you wanted to use this along the length of your nail (or on a diagonal), you could totally do that.
Key Notes
What I Used to Create This Look:
Konad m57 & m78 Image Plates: $6.99 USD each
Konad Special Nail Polish (Black): 11 mL – $6.99 USD
Konad Stamper (came in a set with a metal scraper): $4.99 USD for set
Konad Plastic Scraper: $2.50 USD
Where to Buy Konad Supplies: Konad Stamping Nail Art, Trans Design, Head2Toe, WowSoCool, OC Nail Art & select mall kiosks
What do you think about this butterfly Konadicure? Does OPI Wing It! make your heart flutter?
P.S. Check out my Konad Tutorial for step-by-step instructions and pictures to make Konadicures even easier to get the hang of!