Mineral makeup is my first choice for everyday foundation. But sometimes the powder fades throughout the day or applies a little patchy just because certain parts of my face are drier or oilier than others. A good face primer create a smooth canvas so your makeup adheres better and lasts longer.
Instead of going for a low-end bargain brand, I decided to try one of the best-rated face primers on the market: Make Up For Ever HD High Definition Primer. After putting it to the test for almost a month and wearing it through the extreme humid weather we've had the last couple of weeks, I'm happy to report that unlike a mooching boyfriend, this baby's a keeper!
Make Up For Ever HD High Definition Primer 0 Neutral Pictures: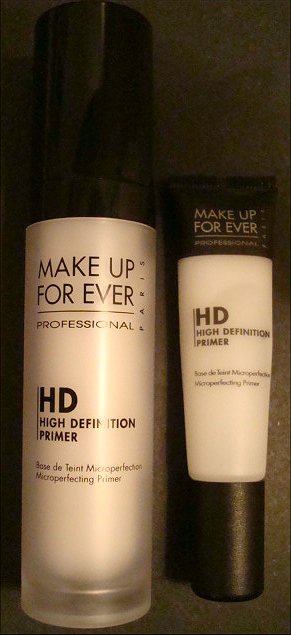 Claims: TRUSTED
√ Lightweight
√ Enhances the skin's texture
√ Helps foundation glide on easily & last longer
√ Creates a glowing effect
√ Nourishes & moisturizes skin
Key Notes
Name: Make Up For Ever HD High Definition Primer
Amount: 15ml (Travel Size) & 30ml (Full Size)
What I Paid: $17 CAD (TS) & $37 CAD (FS)
Price Per Unit: $1.13 CAD (TS) & $1.23 CAD (FS)
Colors Available: 0 Neutral, 1 Green, 2 Mauve, 4 Caramel, 5 Blue, 6 Yellow & 7 Pink
Where to Buy: Sephora (Full Size & Travel Size)
Make Up For Ever HD High Definition Primer Review
Since I have sensitive combination skin, I was hesitant to try a product that might irritate my face or cause me to break out in acne. But I'm glad I took a risk. This oil-free clear formula glides on easily, and you just need to use a very small amount for it to work – about a pea-size for your entire face.
Even though I put on a moisturizer with SPF 15 prior to using this, I can still tell that it adds moisture without feeling like a heavy mask.
For those who are particular about fragrances like I am, you'll be pleased to know that while this is scented, it's not offensive. And once it dries, you can't smell it anymore. The floral aroma reminds me of good salon shampoo.
When I don't use this primer, the mineral makeup makes my skin look slightly drier. With the primer, the powder goes on smoother and softer. Basically, it looks more like skin and less like awful caked-on makeup.
What about the staying power? I notice that my light foundation lasts longer and stays put better than when I skipped the primer. It, however, doesn't keep my face matte all day. But this formula isn't supposed to – it's formulated to add luminosity for a healthy glow. I think it does that pretty well.
How does it hold up to humidity? (Yes, I wore it when the mercury rose to over 40 degrees Celsius!) While I really like this primer, I wouldn't recommend wearing it in extreme humidity unless you have super-dry skin. I feel like this primer performs best in normal to moderate temperatures or when it's dry out. With my combination skin and the humidity, I found that I had to use blotting paper more often to lessen the shine on my T-zone.
Here's my tip for how to apply the primer for the best results: allow the product to absorb into the skin for about 5 minutes before you go over it with your foundation. When I put foundation on immediately after putting on primer, I noticed that my foundation didn't go on as smoothly. I think you have to wait for the primer to dry a bit so the texture is more conducive getting your foundation to adhere better.
I chose the clear version (0 Neutral), but here's the complete list of colors so you can decide what kind of corrector you'd like:
0 Neutral – Adds natural luminosity to the complexion
1 Green – Minimizes redness (ideal for skin with rosacea)
2 Mauve – Counteracts sallow undertones
4 Caramel – Combats ashiness in medium-to-dark skin tones & warms golden tones
5 Blue – Adds radiance to fair skin & reduces minor imperfections
6 Yellow – Lightens dark complexions
7 Pink – Brightens the complexion & counteracts sallow undertones
Pros

Oil-free
Adds light moisture
Smooths skin
Suitable for all skin tones

Cons

Expensive
Contains fragrance
Final Verdict: 7/10
This is the first face primer I've ever used, so I have nothing to compare it to. That being said, I really like using it, and I notice enough of a positive difference with it than without it to warrant purchasing it again.
Edit: Since reviewing this, I've started to like this product a LOT more, and it's great especially in the winter when your skin tends to be drier. It helps foundation go on better and helps it last. If I could re-rate it, I'd give it a 9/10.
What primer do you use? Have you tried Make Up For Ever before? Do you think it's worth the hefty price tag or not?