You want your personality to shine…not your face. Looking like you spent hours working in a greasy-spoon restaurant with your face over the deep fryer is never sexy.
My combination skin loves to get super shiny especially in the t-zone. But I dislike putting on more powder on my face – I already wear loose mineral makeup. So when I saw the oil-free Make Up For Ever All Mat Face Matifying Primer, I felt compelled to try it. (The power of primer compels you! Insert makeup exorcism here.)
Does the Make Up For Ever matte primer work wonders? Or does it leave me disappointed and thinking what ever possessed me to plunk down my hard-earned cash? There's only one way to find out!
Make Up For Ever All Mat Face Matifying Primer Pictures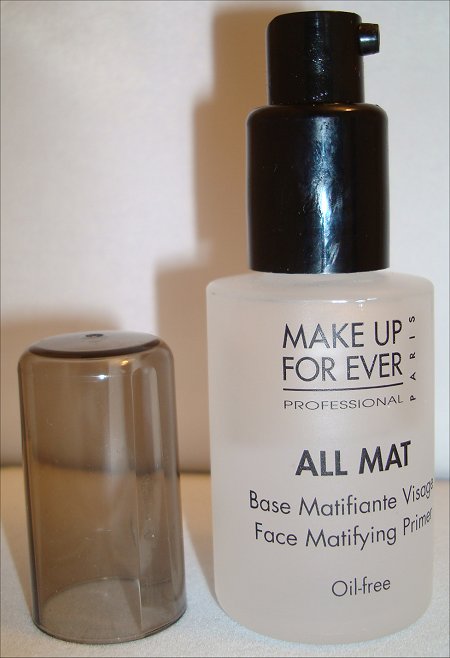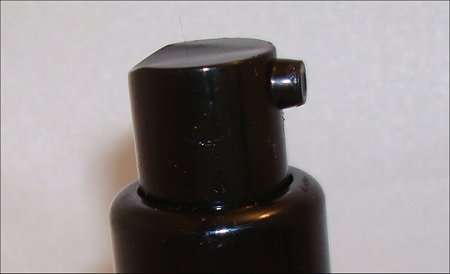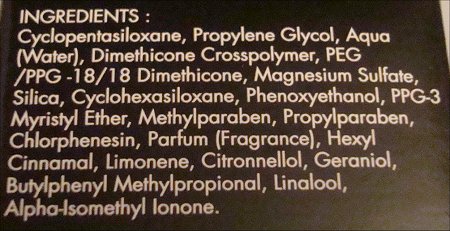 Claims: TRUSTED
√ Removes shine
√ Non-greasy
√ Absorbs excess sebum
√ Leaves skin matte & velvety
X Lasting results
Key Notes
Name: Make Up For Ever All Mat Face Matifying Primer
Amount: 30 mL (1.01 fl. oz.)
What I Paid: $36 CAD (retails for $51 CAD, but Sephora had a special Beauty Insider deal where I got $15 off my in-store purchase)
Where to Buy: Sephora website & Sephora stores
Make Up For Ever All Mat Face Matifying Primer Review
I always put on a facial moisturizer with SPF 15 on my face prior to using the Make Up For Ever all matte primer. Not only does the moisturizer protect my skin from the UV rays, but it also allows the primer to glide on smoother. And it's important to wait a couple of minutes after moisturizing before putting on the primer so that the moisturizer soaks into your skin.
The Makeup Forever matte primer comes in a compact clear frosted bottle with a black pump. I really like this packaging because it's simple and practical – leave it to eye-shadow palettes to get all fancy.
The clear bottle makes it easy to see how much product is left, and the pump dispenses the perfect amount of primer. I usually use 1 to 1.5 pumps to cover my entire face. The pump makes it really easy to get exactly what you need – you can get even a 1/4 of a pump or less.
The silicone Make Up For Ever All Mat Face Matifying Primer has a gel-like consistency, and it smells of perfume. I have a sensitive snout and sensitive skin, and the scent doesn't bother me. It fades significantly when you put it on your face, and after an hour or so, you can't smell it even in the slightest. But if you detest fragrance in your face products and/or have extremely sensitive skin, this isn't the product for you.
When I put it on, it doesn't leave my face feeling tight as I expected, but it also doesn't feel moisturized. It dulls any shine on my face without creating a chalky finish. It has a velvety texture.
After I apply the Make Up For Ever face primer, I wait a few minutes before putting on my mineral-makeup foundation. Compared to without the primer, with it, my foundation goes on smoother and more evenly. It also lasts longer. But…it doesn't last until late at night. I'd say the primer makes my makeup look pretty good from the morning to about 5 pm. The shine, however, comes back around 2 pm. However, without the primer, my t-zone would get shiny by noon.
Pros
Dermatologist-tested
Oil-free
Doesn't contain mineral oil
Colorless
1 to 1.5 pumps is all you need to use for your entire face (a little goes a long way)
Sanitary pump dispenses the perfect (small) amount of product
No-nonsense compact packaging
Reduces shine for the majority of the day

Cons
Expensive
Contains fragrance (not suitable for those with very sensitive skin)
Doesn't keep shine away completely (still get shiny at night without touch-ups)
Final Verdict: 7/10
The matte Make Up For Ever primer does a decent job at helping my foundation go on better and look good while keeping the shine away. However, it doesn't reach that Holy Grail status for me simply because the effects don't last for as long as I'd like. And the expensive price tag is enough of a reason for me to look elsewhere.
Do you have any suggestions for face primers I should try? Which one(s) do you swear by?