China Glaze is one of my favorite nail-polish brands because it's affordable and they love to experiment will all different colors, not just traditional hues. So it was fine time I reviewed one!
Since we're approaching Hallowe'en very soon, I thought it was appropriate to do a China Glaze Mummy May I review. It's a perfectly ghoulish color with bright pinkish-purple square glitter suspended in a blackish base.
Unlike some polishes where the glitter gets lost in the dark base, the glitter here really garners your attention because of the color contrast. This is great for those (like myself) who don't love polishes that are all black or so near-black that they may as well be black. The glitter spices it up!
China Glaze Mummy May I gets extra points for being unique. In my 230+ nail-polish collection, I don't have anything like it! Come see some swatches and find out more about the polish formula.
China Glaze Mummy May I Swatches & Pictures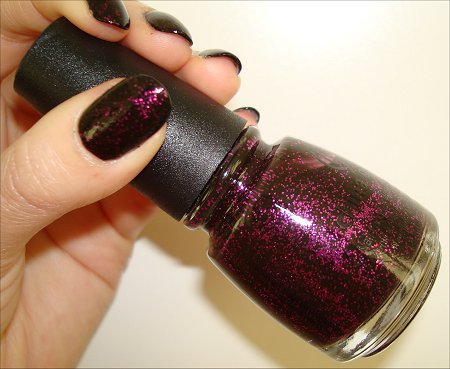 Claims: TRUSTED
√ Contains China Clay, which acts as a nail hardener & shine-enhancer to improve polish wear & appearance
Key Notes
Name: China Glaze Mummy May I
Collection: China Glaze Awakening Collection 2010
Colors in Collection: Mummy May I, Zombie Zest & Ick-a-bod-y
Amount: 14 mL
What I Paid: $2.99 USD
Where to Buy: Sally Beauty Supply, 8ty8Beauty & Amazon.com
China Glaze Mummy May I Review
Hallowe'en is a great time for nail polish because that's when even conservative companies go all out with glitter and wild colors. China Glaze never shies away from unique shades, but they always seem to have amazing holiday collections.
China Glaze Mummy May I from the Awakening Collection is no exception. I really love how the bright glitter pops against the blackened base.
The formula, however, didn't dazzle me. It went on super thick and goopy like white school glue that was left open for a few hours. Applying polish this thick took me slightly longer than usual, and I had to take greater effort to make the finish of this polish appear smooth. China Glaze Mummy May I had the habit of wanting to lump up on the nail unless I pushed it down with the brush. Despite this, I think it's worth the trouble for the color, and it wasn't the most unruly formula I've ever dealt with – it's manageable.
Glitter nail polishes tend to dry gritty, and China Glaze Mummy May I was no exception. It wasn't super coarse so I suppose you could get away without a top coat, but if you want to smooth it out so it looks better, I recommend using a thick-formula top coat.
(I've been dabbling with Seche Vite Dry Fast Top Coat again and used it because it's on the thick side. Plus I haven't used it in years, so I want to test the formula and see if they've improved it since I last tried it. Expect a review on this!)
The wear on China Glaze Mummy May I is pretty long. I could've easily worn this for over a week, but I removed it at the 7-day mark because I wanted to try another color I recently purchased.
I find that lots of glitter polishes wear like iron if you use a good base coat and top coat. I think it has to do with the glitter particles being made out of shells or other hard materials that really adhere to the nail.
This is what I wore under and over the nail polish:
Pros
No DBP, Toulene or added Formaldehyde
Dries fairly quickly
Glitter really sparkles & stands out despite being in a dark base

Cons
Requires thick top coat to smooth out glitter grittiness
Formula on the thick side making it tricky to apply
Can be hard for Canadians to track down if there isn't a Sally Beauty Supply store nearby
Final Verdict: 7.5/10
China Glaze Mummy May I is such a fun Hallowe'en polish to wear any time of year! It's vampy while the glitter makes it playful, and you'll gets many days of wear out of it. Despite the imperfect formula, I still recommend it because, for the price, it lasts longer than even some more-expensive nail polishes.